REV-223

Luxurious dream chalet in a quiet wooded location, ideal for those who like to get away. The playroom will surely appeal to families!
3

Classified 3 stars

10

Capacity of 10 pers.

Fireplace

Spa

Pool table

WIFI
Promotion
3rd night free
From april 15th to june 15th and September 10th to December 15th and does not apply to statutory holidays / long weekends.
EXTEND THE FUN
Reserve two night of lodging and two day of skiing and get 50% discount on the second night and the second day of skiing.
Available From: Sunday March 24, 2019 until Monday April 22, 2019
Book Until: Friday April 19, 2019
*2 nights stay required and max length of 3 nights stay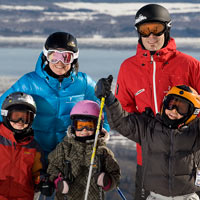 Happy Parents
Share the joys of skiing with your family: plan a getaway where parents are just as pleased as their kids.
For every adult/senior lift ticket booked, get one free children's lift ticket (0-17 yrs) and a 15% discount on 3-night stays or more.
Valid all season
3 days of skiing minimum - Conditions
Book now Choose your dates of stay
*To select your travel dates, click on the arrival day and then on the day of departure.


Legend
Rates
Book now
Description

Ground Floor

1 open concept kitchen & dining room
1 large 5' x 9' mud room, by entrance
1 bedroom with 1 double bed, antiques
1 bedroom with 1 queen bed, antiques
1 bathroom / shower & bath
1 gas fireplace

First Floor

1 mezzanine bedroom with 1 queen bed, antiques

Basement

1 bedroom with 1 queen bed
1 bathroom - shower
1 spacious playroom: Pool, baby foot & poker tables
1 living room with 1 hide-a-bed, 42" TV HD cable, Wii & games

Equipment

Equipped kitchen (pots & pans, dinnerware, utensils, assorted glassware, 2 electric fondue kits)
Coffee maker Tassio and Keurig
Cleaning products provided for duration of stay
Toilet paper, paper towels and facial tissue provided for beginning of stay
Bedding / towels included
Gas fireplace
Washer / Dryer
Dishwasher
Cable TV - 37" HD cable
DVD
Outdoor terrace & garden furniture
Gas BBQ, summer only
Outdoor fireplace / Firewood provided
Pool, baby foot & poker tables in playroom
Wii + 42" TV HD cable in playroom
4 season outdoor hot tub - 6 persons

Nearby

10 minutes to Le Massif de Charlevoix
15 minutes to downtown Baie-Saint-Paul
35 minutes to Le Casino de Charlevoix
1 hour from Québec City

Reservation

The reservation is confirmed only when a down payment equivalent to 20% of the total rental fee is received and when the rental contract is signed. The balance of the payment is due thirty (30) days before the first day of rental.
If the reservation is made less than thirty (30) days before the first day of rental, payment must be made in full.
NSF checks and / or non-payment of rent (not released funds or check (s) not received (s)) result in the automatic cancellation of the reservation and any monies received will be kept by the lessor in damages and interests.
The rental contract must be signed by the tenant and returned to the lessor within 5 working days of being received along with the sums established in the clause CONDITIONS OF PAYMENT, or the contract will be null and void without further notice from the lessor.

Cancellation

Cancellation must be submitted in writing ahead of time to the owner and / or to the rental agency.
If the cancellation notice is received at least 30 days before the rental starting date, the down payment of 20% will not be returned in lieu of damages. The postdated cheque for the balance of the stay and the security deposit (guarantee cheque) will be returned.
When the cancellation notice is received less than 30 days before the rental starting date, all sums received will be kept in lieu of damages except for the deposit guarantee cheque which will be returned.

Firewood

If firewood isn't provided for the fireplace at the property that you have rented, here are some places where you can get some.

Baie-Saint-Paul
Depan-Express (Hyundai)
909, Mgr de Laval

Dépanneur Couche-Tard
1066, Mgr de Laval

Clermont
Dépanneur Couche-Tard
83, boul. Notre-Dame

Petite-Rivière St-François
Jean Guy Simard
2, Chemin des Chutes
(418-564-6296)

La Malbaie
Dépanneur Couche-Tard
1175, boul. de la Comporté

Les Éboulements
Dépanneur Robin Tremblay
197, du Village
Rates
Calculate taxes : $ Prices including all taxes:
Lodging tax of 3.5% + TPS & TVQ
1 to 10 guests
Night number

From Apr 22nd until Dec 20th
1
2
3
4
5
6
7
Long weekend
N/D
$650
$750
$850
$950
$1050
$1150
+$50
---
Night number

From Jan 7th until Feb 28th
From Mar 11th until Apr 20th
1
2
3
4
5
6
7
Long weekend
N/D
$1150
$1250
$1350
$1450
$1550
$1650
+$50
---
Holidays Season and Spring Break
Night number

From Dec 21st 2018 until Jan 6th 2019
From 1st until Mar 10th 2019
1
2
3
4
5
6
7
N/D
$1295
$1495
$1695
$1895
$2095
$2295
---
Book now