FRA-1
Located in the privacy of Le Hameau du Massif residential estate, this upscale wood-beam chalet has all the comfort and luxury for an idyllic getaway. A rare haven of peacefulness, perfect for nature lovers, this exceptional property is tucked away in an enchanting, majestic setting that's sure to please.
8

Capacity of 8 people

Fireplace

Spa

Wireless

Tables games

Air conditioning

Recharge pour voiture électrique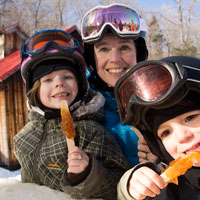 Free for kids
With Free for kids promotion, enjoy a day off to go skiing!
With the purchase of an adult or senior ticket, get 1 ticket free for children!
Valid from Monday to Friday. Valid for child 12 years old and under.
Minimum Stay Requirement: 1 night. This package is not valid between December 26, 2017 and January 7th, 2018 and from March 5 to 25, 2018! - Conditions
Book now Choose your dates of stay
*To select your travel dates, click on the arrival day and then on the day of departure.


Legend
Rates
Book now
Description

Ground Floor :

Kitchen
Dining room (seats 8)
Living room with two-way wood-burning fireplace, 55" flatscreen TV
1 bathroom w/ bath

First Floor :

1 bedroom w/ 1 queen bed & bathroom w/ shower
1 bedroom w/ 1 queen bed & bathroom w/ shower
1 bedroom w/ 1 queen bed & bathroom w/ shower
1 playroom w/ babyfoot table, double sofabed, gas fireplace

Outside

Kitchen with living room and dining room
Wood stove
Gas lamps
Recharge terminal electric car (240 volts/40 amperes)

Equipment

Equipped kitchen (pots & pans, dishes, utensils, assorted glassware, fondue pot (fuel not provided), raclette maker, filter and Keurig coffeemakers (coffee pods not provided)
Cleaning products procided for duration of stay
Toilet paper provided for beginning of stay
Bedding & Towels provided
Fireplace / limited firewood available
Washer / Dryer (soap provided)
Dishwasher
Microwave
Iron & Ironing Board
55" flatscreen TV satellite
DVD Player & Home Theatre
Internet acces Wi-Fi
Fan (Dyson) in each room
Air conditionner (Spring 2018)
Four-Season BBQ
Four-Season Hot Tub, seats 6
Outdoor wood stove and gas fireplace
Ponds and small waterfalls
Christmas decorations & tree (seasonal)

Nearby

1 hour from Québec City
10 minutes to downtown Baie-St-Paul
10 minutes to Massif of Charlevoix
40 minutes to Le Casino of Charlevoix

Arrivals / departures

Arrival time is 5 o'clock at all our properties. Departure times may vary from one property to another, either 11 am or noon. Please consult your rental agreement for details.

Reservation

The reservation is confirmed only when a down payment equivalent to 20% of the total rental fee is received and when the rental contract is signed. The balance of the payment is due thirty (30) days before the first day of rental.
If the reservation is made less than thirty (30) days before the first day of rental, payment must be made in full.
NSF checks and / or non-payment of rent (not released funds or check (s) not received (s)) result in the automatic cancellation of the reservation and any monies received will be kept by the lessor in damages and interests.
The rental contract must be signed by the tenant and returned to the lessor within 5 working days of being received along with the sums established in the clause CONDITIONS OF PAYMENT, or the contract will be null and void without further notice from the lessor.

Cancellation

Cancellation must be submitted in writing ahead of time to the owner and / or to the rental agency.
If the cancellation notice is received at least 30 days before the rental starting date, the down payment of 20% will not be returned in lieu of damages. The postdated cheque for the balance of the stay and the security deposit (guarantee cheque) will be returned.
When the cancellation notice is received less than 30 days before the rental starting date, all sums received will be kept in lieu of damages except for the deposit guarantee cheque which will be returned.

Firewood

If firewood isn't provided for the fireplace at the property that you have rented, here are some places where you can get some.

Baie-Saint-Paul
Depan-Express (Hyundai)
909, Mgr de Laval

Dépanneur Couche-Tard
1066, Mgr de Laval

Clermont
Dépanneur Couche-Tard
83, boul. Notre-Dame

Petite-Rivière St-François
Jean Guy Simard
2, Chemin des Chutes
(418-564-6296)

La Malbaie
Dépanneur Couche-Tard
1175, boul. de la Comporté

Les Éboulements
Dépanneur Robin Tremblay
197, du Village
Rates
Calculate taxes : $ Prices including all taxes:
Lodging tax of 3.5% + TPS & TVQ
1 to 6 guests
Night number

From Jan 5th until Mar 1st
From Mar 18th until Apr 1st
1
2
3
4
5
6
7
Long weekend
N/D
$1195
$1295
$1395
$1495
$1595
$1695
+$50
Charges for extra people per night: $25
Charges for extra child per night: $15
---
Night number

From Apr 2nd until Jun 22nd 2017
From Sep 8th until Dec 17th 2017
1
2
3
4
5
6
7
Long weekend
N/D
$795
$895
$995
$1095
$1195
$1295
+$50
Charges for extra people per night: $25
Charges for extra child per night: $15
---
Night number

From Jun 23rd until Sep 7th
1
2
3
4
5
6
7
Long weekend
N/D
$995
$1150
$1250
$1325
$1375
$1425
+$50
---
Holidays Season and spring break
Night number

From Dec 21st 2017 until Jan 5th 2018
From 2nd until Mar 18th 2018
1
2
3
4
5
6
7
N/D
$1795
$1995
$2195
$2395
$2595
$2795
Charges for extra people per night: $25
Charges for extra child per night: $15
---
Book now